We have had a very exciting week learning all about Gingerbread! Please take a look below to see all the fun!
All week, we read different versions of the Gingerbread Man. We compared the characters, setting, problem and solution in each story. The children did a fabulous job in remembering the details from each book so they could retell the stories. Be sure to ask your child if he/she can remember the characters from one of the Gingerbread Man stories we read this week!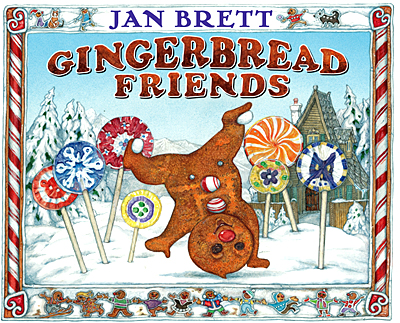 On Friday, we took a vote to determine which Gingerbread story we thought was the best: The Gingerbread Girl or the Gingerbread Boy. Check out the results below!
We each came up with a reason why we thought the Gingerbread Boy or the Gingerbread Girl was the best. Each student came up with his/her own reason, and drew and/or wrote it. We are going to make a class book out of the responses! Great work!
This week's centers focused on our Gingerbread theme. We made our very own Gingerbread houses this week at the art center. Check out our Gingerbread Village display below!
Our poem this week was 5 Yummy Gingerbread. Can your child recite the poem for you at home?
We "counted around the room" this week during math!
Guiding Questions:
- What were the two new letters we learned this week (e & r). What are some words that begin with these letters?
- Which Gingerbread Man story was your child's favorite? Why?
- Can your child retell one of the Gingerbread Man stories we read this week?
- Have your child recite our poem this week, 5 Yummy Gingerbread
- We did a Fun Friday art project on Friday. Can your child tell you what we painted?
- Our class will be going to the Holiday Shop at Fox Hill on Monday. If you would like, send your child to school with a few dollars so he/she can purchase a holiday gift for a family member or friend.
- We will return to our usual library day next week: Tuesday. Please remember to send your child to school with his/her library book so a new book can be borrowed!
-
Winter Gear Reminder:
The cold weather has arrived!! We will go out to recess unless the temperature is below 35 degrees. Please be sure you send your child to school with a warm jacket, a hat, gloves/mittens; if there is snow on the ground, your child will need to wear boots and snow pants outside to recess to be able to go in the snow.
- Polar express day will be on December 22nd. Please let me know ASAP if you would like to volunteer on this fun day!!
Have a wonderful weekend!